News, music videos, Soundcloud and YouTube channels, Writing samples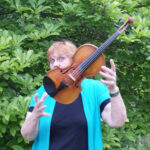 September 2021
In a world turned upside down, we, the music makers, are doing our best to keep your spirits up! You can do the same for us by getting vaccinated so we can safely travel and get back on stage more quickly.  We're all in this together!
One silver lining of the pandemic is the weekly virtual fiddle class I teach for the Philadelphia Folksong Society's Folk School. We began in April 2020 and meet every Weds. from 5-6 pm Eastern time. The virtue of a virtual class is that it's accessible to anyone with internet service, so fiddlers who could never meet in a room because of geography have become a real community. We're still going strong almost 80 weeks later and each hour is archived for streaming at a modest cost.
We take 3-5 weeks to fully explore a new tune. The past month, we've honored fiddler Byron Berline, who died recently, exploring his iconic setting of the fiddle classic "Ragtime Annie." We end each group of lessons with class members creating their own versions and variations of tunes. I've also invited some of my favorite fiddlers to join us on occasion. Eliza Carthy gave us practical advice on playing while singing, Andrea Beaton wrote a tune with us, and Sara Caswell demonstrated playing from the heart. 
We warmly welcome new class members. Please join us as we continue to explore the hidden corners of fiddling. Come for as many classes as you like. Signup form here.
Class member Jon Davis of PA sums up what we're about:
Your lessons have given me invaluable insight into techniques that I've been missing. Between discussions on bow handling and usage, rhythms, patterns, shuffles, etc, using the fiddle for accompaniment, applying chord theory to the fiddle, workshops on better ways to bring emotion and feeling into the music, learning ways to do tune composition, not to mention the styles associated with Acadian, Irish, Scottish and even old-time fiddling, we have covered a huge range of method and technique in the course of the last 16 months or so! And there is so much more yet to do, I have no intention of backing out now – it's sort of like drinking from the fire-hose, as the saying goes."
– – –
The Infinite Dark, our 2018 CD with poet Jane Yolen is available for download.
Jane and I collaborated with acoustic musicians Lui Collins and Max Cohen, bringing Jane's otherworldly poetry to life in a collection of readings, songs, and instrumentals. A suite about shapeshifting Selkies and mermaids adds the voice of Molly Hebert-Wilson and the pennywhistle of Sarah Bauhan. Jane's verses take the listener to Grimm-er lands as well, revisiting Hansel and Gretel and the forest of the Wolf, reminding us that those archetypes still people our inner and outer landscapes. Max engineered and produced this project and he adds his guitar magic to both poetry and songs.
– – –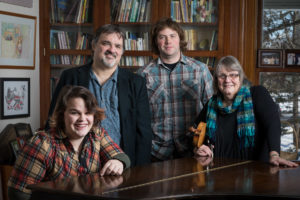 Mist Covered Mountains recorded a half-hour video concert for the 2021 Virtual Old Songs Festival. Molly debuted one of her new songs and she and Max sound better than ever. I do my usual fiddle thingy where I pretend I'm a drummer. You can view it online through the Old Songs website.
– – –
Look for special fiddle events in the next year. Fiddler and longtime pal George Wilson and I are cooking up some concerts with Max Cohen to celebrate our joint "100 Years of Fiddling!" One will be a benefit for Old Songs, so stay tuned!
– – –
Music from the vaults . . .
There's a hundred feet of air between me and the ceiling of the Cathedral del Gésu in Montréal in the video below, grabbed by a festival-goer at the 2014 La Grande Rencontre. We play the Scots-style air that I wrote with Max Cohen, Raven's Wing. We're un-amplified, if you don't count cathedral reverb. This impromptu workshop jam was shared with (left to right) Bruce Molsky, Robin Bouliane, Pierre Schryer (fiddles) and Quinn Bachand (guitar). Bruce was the only one but me who'd even heard the tune before and the jam was his idea. I love fiddling – not only does it make you dance; sometimes it lets you fly!
————–
More music – Max Cohen and I at the Upper Potomac Fiddle Summit in West Virginia – and a story. A few years ago, my daughter Molly met some kids at Falconridge Festival who were jamming on Dad's and Circular Reels. They told her they'd learned both tunes from this video and then they played it for me through her phone. A year later the young fiddler came to a workshop and now he's my regular student. That's modern technology put to good use!