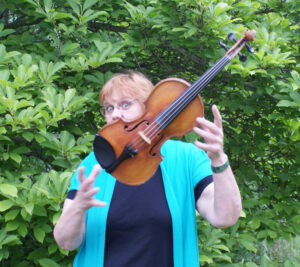 Want to enjoy playing your fiddle more? Maybe you want more intention in your bowing so you can create rhythms and variations within a desired musical style. Are you working on your internal groove and want to improve your overall sound or perhaps music theory is still a half-hidden mystery?
Since April 2020, I've been leading a weekly online class exploring the hidden corners of fiddling for the Philadelphia Folksong Society's Folk School. We've had a deep look at tunes from Irish, Scots, Quebecois and Acadian repertoires as well as Appalachian, Scandinavian, and Cajun sources.
In every tune, we focus first on the structure underpinning melody. That means playing with rhythms, chord patterns, backup styles, exploring composition and improv, writing variations and creating our own versions of tunes, versions that fit us now at whatever level we play.  Students also learn to connect left-and-right hand technique to the emotional content that's drives us to play in the first place!
We meet for an hour every Wednesday evening at 5pm Eastern time and the time flies! Everyone (not just fiddlers)  are welcome and you can take as many classes as you want. We tend to focus on one tune or set of techniques for a month or so, often led by a student's desire for deeper inquiry, so contact me < donna at fiddlingdemystified dot com > with your questions and learning goals. I'll also provide information about our current focus.
Happy Fiddling! Signup for class and bring your curiosity!
Five days with you at the 2019 Festival of American Fiddle Tunes taught me more than two years of conventional theory courses! You understand the interplay between knowing what you're doing and feeling what you're playing, and how to teach that connection to people of all backgrounds. Your classes, in person and online, help me feel like a part of something greater and I cherish our time together as some of the most formative in my life as a young teacher."  Mikela Valenzuela, OR, string teacher and fiddler

"Your lessons have given me invaluable insight into the technique that I've been missing. Between discussions on bow handling and usage, rhythms, patterns, shuffles, etc, using the fiddle for accompaniment, applying chord theory to the fiddle, workshops on better ways to bring emotion and feeling into the music, learning ways to do tune composition, not to mention the styles associated with Acadian, Irish, Scottish and even old-time fiddling, we have covered a huge range of method and technique in the course of the last 16 months or so! And, there is so much more yet to do, I have no intention of backing out now – it's sort of like drinking from the fire-hose, as the saying goes." Jon Davis, long-time class member 

"You've taught me to listen differently and hear more, really connecting me to my core, to an unspoken knowledge or feeling within that I hadn't heard anyone else put into words . . . an affirmation of who we are as musicians that other people don't necessarily understand." Tom Van Cleave, long-time class member