Sign up here – 2023 Great Groove Band
Folk festivals offer a trove of traditional music and they can also incubate and encourage skilled and aspiring young musicians. Today's practicing kids could be tomorrow's main stage acts. With that in mind, Donna Hébert began the Groove Band in the late 90s at Old Songs Festival and still organizes and arranges the music. Her daughter, Molly Hebert-Wilson, herself a singer, songwriter, and vocal coach, became the director in 2018. The goal of the Great Groove Band is to foster a lifelong love of traditional music. Twenty-five years later, we know it's working.
Who plays in the band?
School-age musicians (ages 5-18) bring acoustic instruments and voices. All instruments, all levels. In six hours of focused rehearsal over three days, they experience the joy of music – learning, arranging, and performing fiddle tunes and folk songs by ear.
Working cooperatively, they prepare three numbers for a Sunday afternoon performance on the main stage. Over the weekend, the band's transformation from chaos to harmony is both remarkable and predictable, proving that music truly is our birthright!
Sight-reading music is optional. We post audio files, sheet music, and song lyrics online in spring but if you miss these, we teach it all at the festival.
The repertoire ranges from Amazing Grace to Norwegian waltzes to Irish jigs and Scottish marches and Old-Time reels and folk songs from traditions around the world. They are immersed in melodies, chords, rhythms and lyrics, sometimes in a foreign language. They learn a lot, but there's even more going on.
The goal is for them to feel like a band, to have eye contact, to communicate with each other and the audience. This is not a recital. Teachers play with them onstage and our rhythm players support their performance only as much as necessary.  We all played with our mentors as young people – that's how we developed the traditional repertoire and styles that we teach. Our crew transforms even the youngest from shy newbies to band members in three days!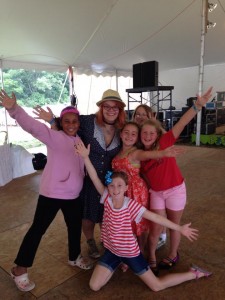 © 2023 Donna Hébert, fiddlingdemystified.com. All rights reserved.