Press kit   Audio/Video  Poems/Songs
Short bio for festival programs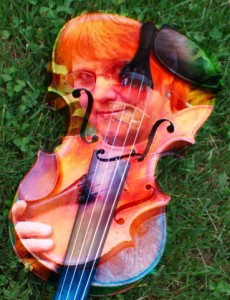 Franco-American fiddler Donna Hébert has deep roots in folk music. Cited for "outstanding artistic achievement" in 2009 by Massachusetts Governor Deval Patrick, Donna is a master of fiddling and fiddle pedagogy as well as a songwriter with originals on two Smithsonian recordings.
Recently retired as fiddle instructor at Smith and Amherst Colleges in western Massachusetts, Donna now teaches a weekly Fiddling Demystified class online with fiddler George Wilson.
Donna's book "Fiddling Demystified for Strings," is an in-depth study of styles and techniques that "should be required reading for all string teachers hoping to branch out into fiddling," said Laura Risk in Strings Magazine. String pioneer Darol Anger says "Donna gets it all right," in his foreword to the book.
Current bands include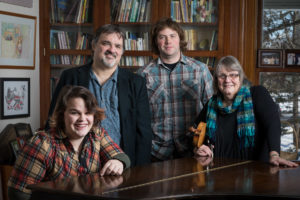 • Celtic and contemporary folk ensemble Mist Covered Mountains with singer Molly Hebert-Wilson, singer/guitarist Max Cohen and drummer Alex Bell. They also coach youth performances of the Great Groove Band at Old Songs and Philadelphia Folk Festivals.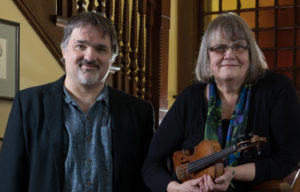 • Donna and Max perform and record together. Their "Orange on Blue" instrumental CD is available for download. They also join with good friends George Wilson and Selma Kaplan for performances of Donna and George's celebration of "100 Years of Fiddling."
Longer bio
Donna's hands have always itched to play. Her mother removed one of the doubled strings on her own mandolin (the one in the photo) so Donna's fingers could manage. Donna sang with her mom at performances, later sharing that activity with her own daughter, Molly Hebert-Wilson. Molly now sings with Donna in Mist Covered Mountains. Their vocal CD, This Distant Shore, was released in 2013 and they still perform together.
After sharing a high-school orchestra stand with soloist Elmar Oliveira, Donna picked up a guitar and turned left at the folk revival in the 1960s. She apprenticed as a fiddler with the Canterbury Country Dance Orchestra in the early 1970s, then for ten years, Donna and caller Tony Parkes produced the Concord Scout House contradance series with Yankee Ingenuity. Coached in authentic fiddle styles by mentors Louis Beaudoin, Gerry Robichaud, Clem Myers, Joe Cormier, Graham Townsend, Allan Block and Séamus Connolly, Donna began to tell her own story.
In the 80s, Donna started the edgy Rude Girls with singer Lyn Hardy, winning a 1988 Indie for their debut Flying Fish LP, "Rude Awakening." A co-write with Lyn, their modern murder ballad "The Ballad of Francine Hughes," was tracked on Smithsonian's "Folk Song America" anthology. Donna's song, "Babies" was recorded by The Weavers' Ronnie Gilbert on "Love Will Find a Way," while Donna's "Blessing" is recorded by Lui Collins and others.
In 1993, Donna met Franco-American singer Josée Vachon, bringing their shared cultural identity to the fore. With guitarist and singer Liza Constable and bassist and Cajun accordionist Alan Bradbury, they performed as Chanterelle in the U.S., Canada and France. Chanterelle released two CDs and were included on the 1999 Smithsonian anthology, "Mademoiselle, voulez-vous danser?" Their "Soirée chez nous" (1996), is in print, and Donna and Josée still meet for the occasional soirée.
With the assistance of fiddler and producer Pascal Gemme (of Québecois trio Genticorum), in 2009 Donna released "In Full Bloom," with a companion tunebook. There are joyful tracks with Pascal, fiddler André Brunet, pianist Rachel Aucoin, accordionist Sabin Jacques, dancer Marie-Soleil Pilette, guitarist Max Cohen and the late Québecois pianist, Dénis Frechette. Donna's sprightly fiddle-accordion duet with Sabin Jacques on "La Valse Joyeuse," lives up to its name, while the duet with André Brunet (and his feet!) on Louis Beaudoin's settings of "La grondeuse" and "La grande gigue simple" would make anyone dance! "In Full Bloom is Donna's best – un vrai délice!" says Québecois singer and accordionist Benoit Bourque.
Donna founded Great Groove Band youth performances at Old Songs Festival in 1998 and expanded to the Philadelphia Folk Festival in 2006. Her daughter Molly Hebert-Wilson now directs the group.  Donna has mentored eight Franco-American fiddle apprentices through the National Endowment for the Arts' Master-Apprenticeship program and was named an Artists' Fellow in the Folk Arts by the state of Massachusetts in 2008.