Fiddling Demystified online classes delve into the left and right hand techniques necessary to play a tune well. Since 2020, we've gathered across time zones to learn and analyze tunes from Scots, Irish, French-Canadian, New England, Appalachian, Texas, Scandinavian, and Cajun sources. Special guests join us every few months so we can all learn from the best!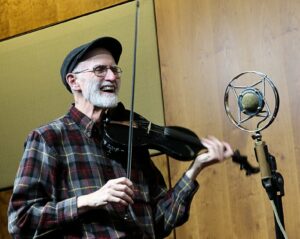 George Wilson and I have more than a hundred years of fiddling  between us to help you:
Use your bow more intentionally, sharpen your ear, find a better internal groove, and enjoy your playing more!
We take several weeks to explore two tunes in tandem. Melodies in hand, we play with rhythms, shortcuts, chord patterns and backup styles, tinker with composition and improv, writing variations and harmonies, and then we help you connect left-and-right hand technique to your feelings about the music to enrich your playing pleasure.
Class meets every Wednesday at 5-6 pm U.S. eastern time and is also available as a download. Class and teachers nominate tunes and we choose equally from challenging and easy tunes with no limit on regional styles (see our guest teacher list). We teach by ear and also provide sheet music with lesson notes. It's a warm-hearted group and the class is affordable. Send an email to sign up.  
FEES: $10/class, $8/night (10 classes for $80),$20 guest fiddler events
—
". . . there's so much valuable insight into fiddle technique that I'd missed. I've been here since the first class and I have no intention of backing out now!" Jon Davis, long-time class member 

"Five days with Donna at the 2019 Festival of American Fiddle Tunes taught me more than two years of conventional theory courses! " Mikela Valenzuela, Oregon string teacher and fiddler

"You taught me to listen differently and hear more, connecting me to my core, to an unspoken knowledge or internal feeling that I hadn't heard anyone else put into words . . ." Tom Van Cleve, long-time class member