New download! (LINK)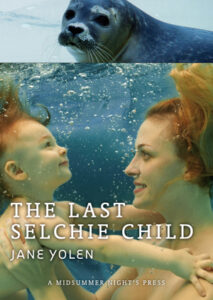 THE INFINITE DARK explores fairy tale worlds with one of the genre's masters. Author and poet Jane Yolen holds two Nebula Awards and was named the 2017 Grand Master of Science Fiction and Fantasy by the Science Fiction Writers of America. Eight of the poems and song lyrics are from The Last Selchie Child, © 2012 Jane Yolen, A Midsummer Night's Press, New York.
Jane collaborates with acoustic musicians Lui Collins, Max Cohen & Donna Hébert, bringing her otherworldly poetry to life in a collection of readings, songs, and instrumentals. A suite about shapeshifting Selkies and mermaids adds the voice of Molly Hebert-Wilson and the pennywhistle of Sarah Bauhan. Jane's verses take the listener to Grimm-er lands as well, revisiting Hansel and Gretel and the forest of the Wolf, reminding us that those archetypes still people our inner and outer landscapes.
Lui, Max, Donna and Molly sing lead and harmony, with Max's guitar underpinning Jane's spoken-word tracks throughout. Donna's haunting fiddle, Lui's ukulele, piano and banjo all add musical texture, while their voices take the listener deep into the story . . .
"Somewhere between my lips, your ear, is the story you should hear" Jane Yolen, "Story"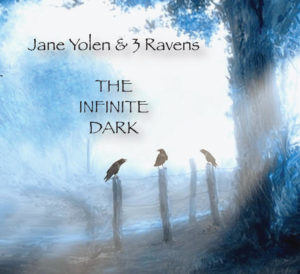 Doorway © Yolen – Jane recites / Story © Yolen/Hébert (Last Selchie Child) Donna lead, Lui/Molly harmonies
The Hero's Thumb / Prince Ever After © Yolen – Jane recites
The Ballad of the White Seal Maid © Yolen/Collins (Last Selchie Child) – Lui solo vocal
The Great Selkie © Yolen (Last Selchie Child) – Molly recites / Ode to Brighid – trad. Irish air – Molly solo vocal / Fisherman's Song for Calling the Seals – trad. Orkney jig – Donna fiddle, Max guitar, Sarah Bauhan, whistle
The Selchie Children's Plaint / The Last Selchie Child © Yolen (Last Selchie Child) Jane recites
Pennan Den – trad. Scots air (James Watt) – Donna solo fiddle / Come To Me, My Darling © Yolen/Cohen – Max solo vocal, guitars
Mermaid's Lullaby © Yolen/Collins – Lui solo vocal, piano; Donna fiddles, Max guitars / The Mermaid – trad. Irish air – Donna fiddles, Max guitars, Lui piano
Beauty and the Beast: An Anniversary / Swan Princess #1 & #2 © Yolen (Last Selchie Child) Jane recites
Feral © Yolen/Collins – Lui vocal, piano; Donna fiddles
In the Hood, Noir © Yolen – Jane recites / Once Upon © Yolen (Last Selchie Child) Donna recites
Things That Should Never Be Known © Max Cohen – Max solo vocal, guitars
Gretel Asks / Ovens / Her Cousin's House of Candy © Yolen – Jane recites
Bouquet © Yolen/Collins – Lui lead, banjo; Molly harmony vocal, Donna fiddles, Max guitar
Another Way to Tell © Yolen – Jane recites / Another Way to Tell © Yolen/Collins – Max solo vocal, guitars / Morning Song © Max Cohen – Max guitar, Lui tenor ukulele