OLD SONGS FESTIVAL – Altamont NY – June 23-25, 2023 – under 12 free with ticket holder.  Register for the band with Molly Hebert-Wilson
2022 Music/Instructions – 2023 to come. 
We regret that the 2023 Philadelphia Folk Festival has been cancelled
What is The Great Groove Band?
Donna Hébert developed this long-running performance program with Andy Spence at the Old Songs Festival in 1998. Mary Lou Troy and Fred Kaiser added the program to the Philadelphia Folk Festival in 2006, where it has its own distinct personality.
School-age musicians (ages 4-17) bring acoustic instruments and voices to both festivals. In six hours of focused rehearsal over three days, they experience the joy of music – learning, arranging, and performing fiddle tunes and folk songs by ear.
Working cooperatively as a band, they prepare three numbers for a Sunday afternoon performance on the main stage. The band's transformation from chaos to harmony is both remarkable and predictable, proving that music truly is our birthright!
"One of the most emotional moments in the 50th Annual Philadelphia Folk Festival for me came when a crowd sang along to the only real national anthem this country ever deserved, Woody Guthrie's "This Land Is Your Land," performed by a group of children whose parents were longtime festival goers." John Swenson: Music on My Mind, 8/24/11.
Who plays in the Great Groove Band?
Singers and players aged four to seventeen are welcome. The group averages 40 participants at each festival and many members come back for years, often with friends in tow. ALL ACOUSTIC instruments (we mean all – voice to violin to xylophone, harp to horn) are welcome. All levels are also welcome, so if you're coming to the festival with a friend, bring them, too! Every single child, regardless of skill level, has a part to play. Even if it's the simplest part, we'll help them find it.
Sight-reading music is optional. We post the year's program online in the spring with audio files for ear-learners, song lyrics and music notation. But even if you miss these, we teach everything at the festival, so don't let that stop you from joining the band. We don't use sheet music on the performance stage, though the rhythm section sometimes tapes their chord charts on the floor like the pros.
We want them to be a band, have eye contact, communicate with each other and the audience. This is not a recital. Teachers play with them onstage and our rhythm players support the performance.  We all played with our mentors as young people – that's how we developed the traditional repertoire and styles that we teach.
Some band members have grown up with the group and playing music together is a high point of their summer. Albany area fiddler and program alum Colleen Holroyd (now an associate at the National Council for the Traditional Arts), went from charter member to teaching volunteer. She says:
The Great Groove Band has shown me how to play, perform, and pass it on, opening windows and doors of opportunity."
Says her mother, Nancy Holroyd,
Not only did Colleen learn to make the kind of music that she loves, she learned to pass it on. Particularly valuable is the Groove Band experience of turning a tune into a performance."
Our teachers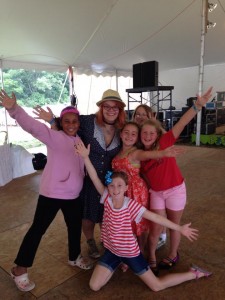 Molly Hebert-Wilson – director, songs, vocal arrangements, acoustic bass
Donna Hébert – founder, fiddle, string arranging
Brian Weilland – guitar, rhythm
Autumn Rose Lester – fiddle
Rebecca Weiss – strings
Rob Pruyn-Bush – winds, banjo, keyboard
Alex Bell – percussion
Noam Berg – mandolin
George Wilson – fiddle
We couldn't do it without our skilled volunteers! Our crew transforms even the youngest from shy newbies to band members in three days!
What music do we play?
The repertoire ranges from Amazing Grace to Norwegian waltzes to Irish jigs and Scottish marches and Old-Time reels and folk songs from around the world. Each group learns a new set of tunes, chords, rhythms and lyrics on the spot, by ear, sometimes in Irish or French or another language. One year we heard a girl tootling "The Lion Sleeps Tonight" on a recorder and turned that into one of our songs, with vocal, lead, harmony and rhythm parts. It's never the same program and it's always FUN!
Jammin'
Don't be afraid 
Just let go 
Take a deep breath 
and look into 
each other's eyes 
Friend and peer 
Equals 
Tuck your fiddles 
and raise your bows 
ready to share 
music: 
conversation 
without words 
Enter the sound 
Let its will 
guide yours 
Swing on 
the groove 
Hand it 
back and forth 
Magic carpet ride 
Roller coaster tune 
A journey round your ears 
and every so often, 
your eyes – softly shut 
to better hear the music 
in your head – 
open wide, and you catch a 
through-the-looking-glass glimpse 
of another soul 
© Donna Hébert – 1998, all rights reserved. Photo © Roger Mock 2006. All rights reserved.